Assistant Professor of Medical Ethics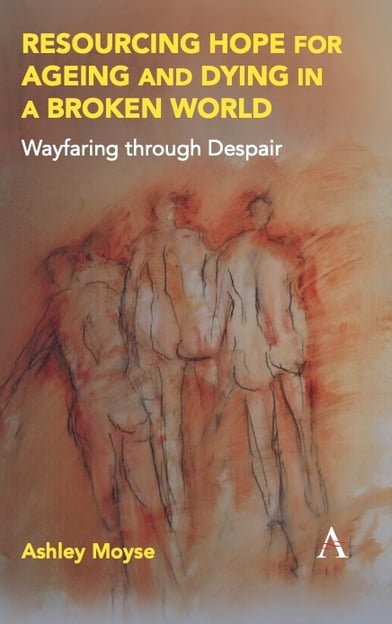 For those captive to the broken world of late modernity, wherein ageing and dying persons become vulnerable to despair, this book offers a diagnostic of such despair. It also resources the practices of a realistic, humanising hope that might enable a strength for person to journey with and for others, together, through such despair. Thus, by addressing the aetiology of despair experienced by people confronting ageing, frailty and dying, and drawing upon the writings of Gabriel Marcel, among others, Ashley Moyse reveals the problematic life of a broken world with its functionalising metaphors, instrumentalising reasoning and objectifying desires that offer no hope at all. It is a broken world where despair generates behaviours that anticipate suicide or other, often tragic, outcomes that impede or greatly curtail or even completely inhibit human flourishing. Resisting despair, but living through it, Moyse presents the activity of the moral life, demonstrating a way persons might be resourced through an intersubjective and reflective pedagogy, with its habits or practices that enable a humanising hope, liberating human beings to become those readied to confront the actualities of human living and dying, and encouraged to grow and to develop as 'wayfarers', hopefully.
Endorsements
In his eloquent style, Ashley Moyse explains how the dominant late modern anthropology may leave older adults at risk for despair. He carefully examines hope in its different forms varying from illusionary hope to realistic, humanizing hope. The book comprises of a fascinating blend of theology, philosophy, research and personal experiences.
Prof Els van Wijngaarden, Radboud University Medical Center, Netherlands
The experience of ageing is one of the inevitabilities of life. We may die young, or we may live into old age, but age we will. But what kind of experience should ageing be. The narrative of what Moyse calls the 'late modern imagination' presents an anthropology that is marked by independence, self-assertion, quick thinking, power, competitiveness, productivity, good health; all of the things that we begin to lose as we age. Within this narrative, ageing is inevitably perceived as a series of losses that feed into despair. Within such a story, why would a person not ask for their life to be ended when the trials and tribulations of ageing begin to emerge? Is it not "obvious" that life is meaningless? Running alongside and within this story is a form of technological medicine that focuses on parts and on mending parts. When these parts can't be fixed, this story runs out of steam. When it is faced with unsolvable problems and mystery it is silent. Mystery creates meaninglessness and meaninglessness feeds into the despair experienced by elderly people, which often leads to the desire to end life. In this book Ashley Moyse urges us firstly to see the errors of this way of narrating the world, and secondly to move towards a more hope-filled understanding of ageing that is driven by love and compassion and accepts the reality of the mystery of human life and the need to live well with unanswered questions. This book contains a message that is of great importance for the study of ageing, the practice of medicine and the art of living humanly. We ignore it at our peril.
Rev Prof John Swinton, University of Aberdeen, UK
Ashley Moyse provides a fascinating and critical examination of the current zeitgeist about aging, illness, and death. He convincingly argues that responsible living compels us to embrace hope as the antidote to the despair associated with the finitude and frailties of human existence.
Prof Fabrice Jotterand, Medical College of Wisconsin
This is an outstanding treatment of a malaise of modernity that betrays human flourishing in communion with others. Moyse deconstructs the myths of autonomy and self-sufficiency in a manner that leads to human engagement with the aging and dying, which is all of us.
Rev Prof Richard Topping, Vancouver School of Theology
Malek's Programmatic Secularism? A Dissent
Christian Bioethics 28, no. 2 (August 2022): 99-108.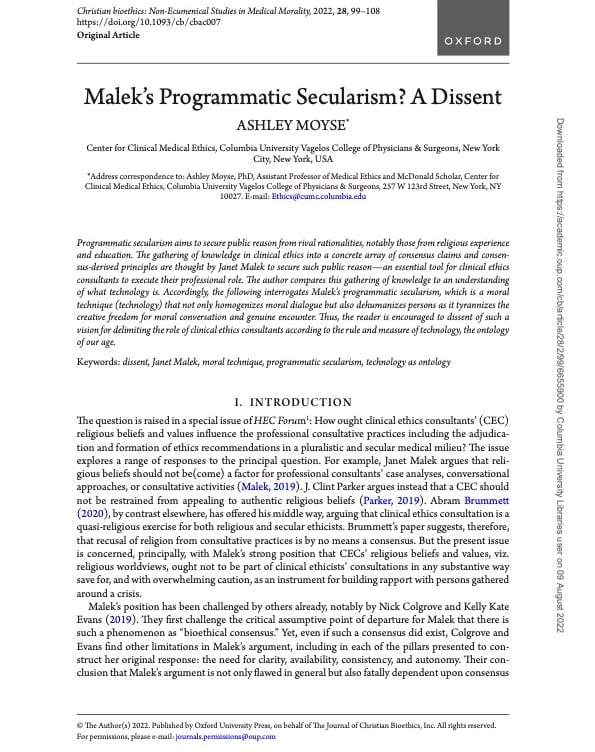 Programmatic secularism aims to secure public reason from rival rationalities, notably those from religious experience and education. The gathering of knowledge in clinical ethics into a concrete array of consensus claims and consensus-derived principles are thought by Janet Malek to secure such public reason—an essential tool for clinical ethics consultants to execute their professional role. The author compares this gathering of knowledge to an understanding of what technology is. Accordingly, the following interrogates Malek's programmatic secularism, which is a moral technique (technology) that not only homogenizes moral dialogue but also dehumanizes persons as it tyrannizes the creative freedom for moral conversation and genuine encounter. Thus, the reader is encouraged to dissent of such a vision for delimiting the role of clinical ethics consultants according to the rule and measure of technology, the ontology of our age.